April 8th, 2022
"Nothing is more expensive than a missed opportunity."
The Greater Toronto industrial market is growing at a pace never before seen. What was initially pushed to new heights by untapped potential in the warehousing and logistics sector is now being driven by scarcity and fear.
As retailers captured new market segments in online sales, an entire ecosystem of suppliers, integrators, 3PL, and transportation firms blossomed to support the flow of goods from production line to doorstep.
This enormous chunk of demand was – for the most part – unaccounted for, and took the industrial community by surprise. Had it gradually rolled out over decades, it would have been easier for developers, investors, and businesses to adapt more slowly. However, as we have learned, technological growth is exponential, and change is accelerating.
Under normal circumstances, things would also have been easier. But again, looking to cliches and aphorisms, we know that things that can go wrong, do go wrong. The shift to e-commerce and its resulting effects on the industrial market coincided with a level of chaos and uncertainty that shook the economy to its core.
From labour and materials to zoning, permitting, and a scarcity of land itself, bringing new supply to market has become increasingly challenging. The net effect is that businesses must plan far in advance to secure ample space. And investors must be financially and operationally ready to pull the trigger at any moment's notice should opportunity arise.
Just a few missed opportunities, compounded over the long run, can separate the most prominent and successful players from the rest. That's why having that 'edge' when it comes to market insight and potential availabilities can be the most important strategic element for any investor looking to deploy capital and construct or acquire income-producing industrial assets.
Studying the overall market may arm you with a foundational knowledge, however, making real estate decisions lies in understanding the nuance and differences.
This more focused and tailored approach is the key to unlocking value, especially in a landscape where apparently nothing is available for sale, for lease, or for development. Yet, each week, we see major announcements made online as owners and occupiers capitalize on opportunities through creative solutions and 'seeing past the numbers'.
That's why we will begin a weekly analysis of various submarkets to give you a better sense of how each may fit in with your real estate strategy.
For this week's newsletter, we'll feature the City of Oshawa and examine the state of its industrial market, including trends, transactions, and developments. 
Oshawa Industrial Market Snapshot – Q4 2021




Source: Cushman & Wakefield Research.
Looking at the current inventory numbers, we have over 800M SF of industrial space across the GTA; yet Oshawa's share is just over 19M SF (about 2.4%). In 2021, however, Whitby had a relatively higher amount of absorption at 1,083,071 SF (7.7%) and 1,071,262 SF of new supply – with the total being net negative.
The availability rate in Whitby sits at just 0.7% and should further tighten with the broader market. Furthermore, rental rates are at a considerable discount to other submarkets, yet these too will catch up as supply further diminishes and businesses look to the GTA East for opportunity.
Oshawa Industrial Properties Available for Lease – 20,000 SF+
Oshawa Industrial Properties Available for Sale – 20,000 SF+
3 Interesting Facts about Oshawa's Industrial Market
Northwood Business Park – Development Opportunities
The city of Oshawa has designated approximately 500 developable acres – titled Northwood Buisness Park – as a Prime Employment Development Opportunity. The park is bounded by Taunton Road West to the south and Highway 407 East to the north, and stretches from the Oshawa-Whitby border to the west across to Oshawa Creek to the east.
Sample Land Parcel and Industrial Availabilities – For more details, contact our team.
10.58 acres for sale.

6.5 acres for sale.

9.8 acres for sale.

7 acres for sale.

5.9 acres for sale.

89 acres for sale.

Industrial building for lease.

Industrial design-build with up to 80,000 square feet for lease.
All locations are just minutes to Highways 401, 407 East, 412 and 418. Furthermore, they are served by Durham Region Transit – providing ability to tap into the labour pool – and close to Oshawa Executive Airport, which includes Canada Border Service; an attractive feature for transportation and logistics companies importing goods. 

Northwood Business Park. Source: City of Oshawa.
Panattoni Has Brought 3 State-of-the-Art Industrial Facilities to Oshawa in the Past Year
With new industrial facilities at 883, 1121, and 1147 Thornton Road South in Oshawa, Panattoni has brought on board 440,000, 409,962, and 220,410 square feet of space, respectively, totalling just over 1.07M SF.
Geodis has occupied the 440,000 SF property at 883 Thornton Road South, while Aosom Canada Inc. has occupied approximately 170,000 SF of the 409,962 SF facility at 1121 Thornton Road South. 1147 Thornton Road South's tenancy is comprised of 3 separate occupiers.

883 Thornton Road South, Oshawa. Source: Panattoni.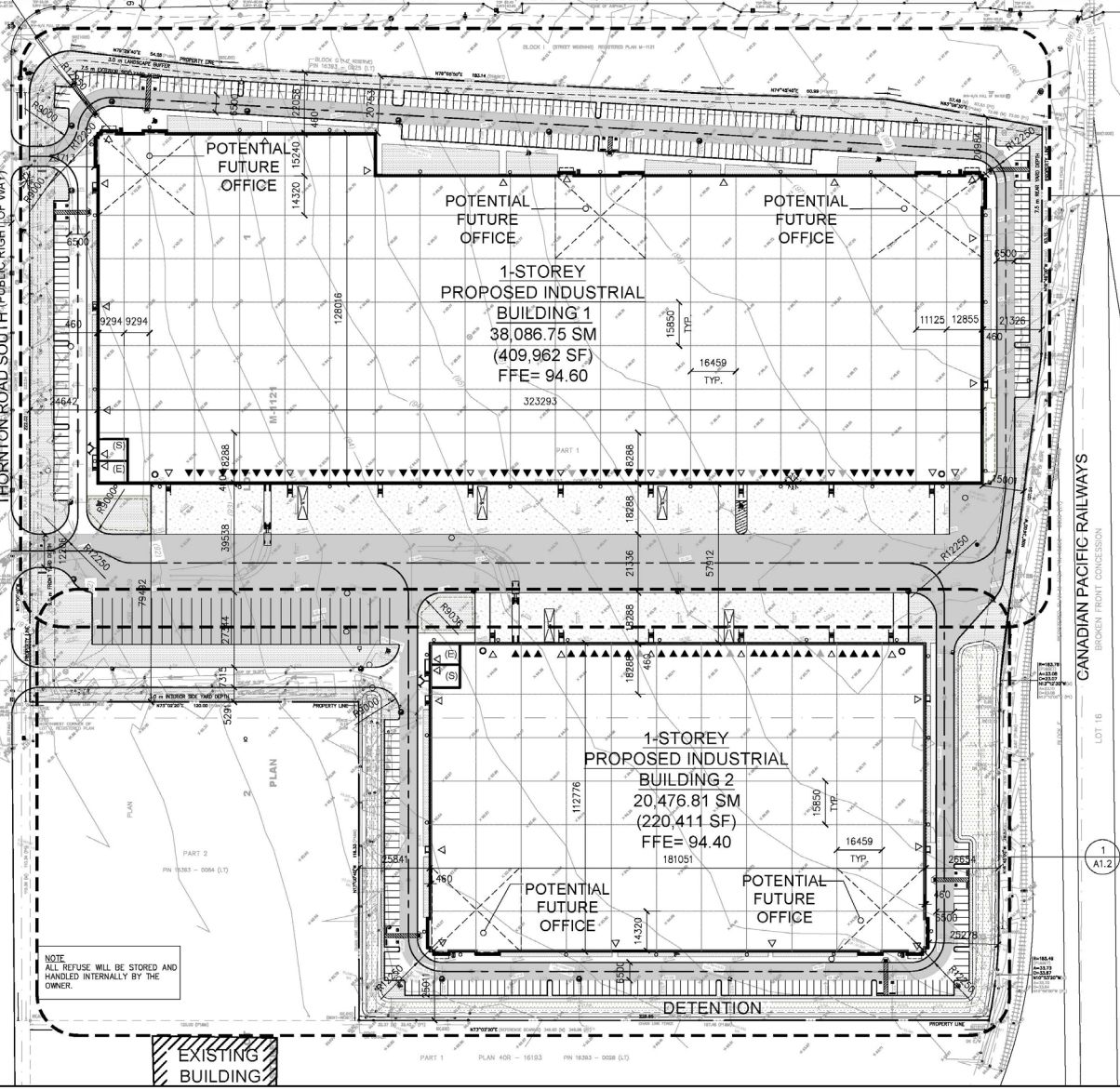 1121-1147 Thornton Road South, Oshawa. Source: Panattoni.
GM Disposing of Excess Office and Land Assets
General Motors is disposing of its 284,524 SF freestanding office campus sitting on 18.7 acres plus an additional 55.5 acres of prestige industrial land at the Colonel Sam Drive Building and Lands in Oshawa. Approximately 19 acres of the asset have direct frontage onto Highway 401.
This opportunity would cater well to an investor or developer looking to construct an industrial park with warehousing, food preparation, wholesale distribution, data centres, light manufacturing, and self-storage uses all permitted. CBRE is leading the disposition.

General Motors Office, Colonel Sam Drive Building and Excess Lands, Oshawa. Source: CBRE.
Conclusion
If we keep at our current pace, it's conceivable that we may get to a 0% availability across the GTA, aside from brief periods between Tenants, design-build projects, or speculative construction (which are themselves often pre-leased well in advance). For those businesses looking to purchase or lease existing space, things will only become more challenging and competitive.
These points underscores the tremendous value of land. While land is becoming increasingly expensive, municipalities such as Oshawa are hungry to attract investment from developers and businesses, and offers both incentives and a relative discount to other submarkets. Land also offers a level of predictability in cost and assurances in occupancy, should you get your hands on some.
It is for these reasons that we believe Oshawa's industrial real estate market is poised for further growth in the coming years, especially as the major developments in the pipeline come on stream. Not only that, but its access to transportation routes and the labour pool further position it as an up-and-coming submarket, just as its neighbouring municipalities in Durham Region.
In the coming weeks, we will continue our examination of various submarkets with the aim of uncovering potential opportunities and strategies for industrial Owners and Occupiers. In the meantime, if you are an owner of industrial land or property with redevelopment potential, there are plenty of institutional and private buyers who would be willing to pay a premium to take it off your hands.
For a confidential consultation or a complimentary opinion of value of your property please give us a call.
Until next week…
Goran Brelih and his team have been servicing Investors and Occupiers of Industrial properties in Toronto Central and Toronto North markets for the past 30 years.
Goran Brelih is a Senior Vice President for Cushman & Wakefield ULC in the Greater Toronto Area.
Over the past 30 years, he has been involved in the lease or sale of approximately 25.7 million square feet of industrial space, valued in excess of $1.6 billion dollars while averaging between 40 and 50 transactions per year and achieving the highest level of sales, from the President's Round Table to Top Ten in GTA and the National Top Ten.
Goran is a Past President of the SIOR ‐ Society of Industrial and Office Realtors, Central Canadian Chapter.
Specialties:
Industrial Real Estate Sales and Leasing, Investment Sales, Design-Build and Land Development
About Cushman & Wakefield ULC.
Cushman & Wakefield (NYSE: CWK) is a leading global real estate services firm that delivers exceptional value for real estate occupiers and owners. Cushman & Wakefield is among the largest real estate services firms with approximately 53,000 employees in 400 offices and 60 countries.
In 2020, the firm had revenue of $7.8 billion across core services of property, facilities and project management, leasing, capital markets, valuation and other services. To learn more, visit www.cushmanwakefield.com.
For more information on GTA Industrial Real Estate Market or to discuss how they can assist you with your real estate needs please contact Goran at 416-756-5456, email at goran.brelih@cushwake.com, or visit www.goranbrelih.com.
Connect with Me Here! – Goran Brelih's Linkedin Profile: https://ca.linkedin.com/in/goranbrelih
Goran Brelih, SIOR
Senior Vice President, Broker
Cushman & Wakefield ULC, Brokerage.
www.cushmanwakefield.com
Office: 416-756-5456
Mobile: 416-458-4264
Mail: goran.brelih@cushwake.com
Website: www.goranbrelih.com