June 9th, 2023
As we enter the warm summer months, we continue to see numerous events unfold relating to the economy and the future of work.
Top-of-mind for most young professionals and families remains the cost of living and whether they will keep working from home or return to the office. For businesses, the additional rate increase and broader economic uncertainty are putting forth questions about how to navigate it all, how to be financially ready for any potential downturn, as well as how to leverage new technologies, such as AI, to capitalize on increased productivity and cost savings.
How this ties into industrial real estate, as well as submarket-specific outcomes is this: industrial real estate has been – and will likely always be – heavily dependent on where people are located; whether that be accessing the labour pool, tapping into infrastructure, or getting closer to end-consumers.
As a result of the aforementioned forces, municipalities along major transportation routes – such as Highways 401, 400, 404, 403, 407, and the QEW – along the GTA's periphery have seen an influx of residents seeking improvements in lifestyle, a reduction in expenses, and a refuge from congestion.
And for these towns and cities that have been long-established as commercial hubs within their broader regions, their growth has only accelerated. This is because businesses following close behind not only see the opportunity in a growing and youthful economic base, but can mobilize and justify their real estate decisions more easily due to the relative discount in land values and industrial rents and pricing.
These up-and-coming hotspots – along with the 'transportation corridors' leading to them – are, in this writer's opinion, areas to watch for major new industrial developments.
That's why, in the coming weeks, we will continue our analysis of sought-after periphery markets within the broader Greater Toronto Area and Greater Golden Horseshoe. We will aim to provide some deep insight into each, as well as provide some detail on potential opportunities that may fit in with your real estate or investment strategy.
For this week's newsletter, we'll feature the City of Barrie and examine the state of its industrial market, including trends, transactions, and developments. 
Barrie Industrial Market and Economic Snapshot 
Barrie has experienced a remarkable transformation over the last decade, with strategic investment and talent-driven innovation underpinning its growth.
The city, located less than 100km north of Toronto on the shores of Lake Simcoe, has become one of Ontario's most promising markets for industrial and commercial development, driven by factors such as competitive tax rates, a highly skilled workforce, and robust transportation infrastructure. Barrie is projected to more than double its population by 2051, creating additional demand for industrial and commercial space.
The city's industrial sector is thriving, with notable success stories from companies such as Prodomax, one of North America's largest industrial automation companies, and Canplas Industries, a global leader in construction plastics. Prodomax, founded in Barrie in 1971, operates two state-of-the-art facilities in the city spanning a combined 148,000 square feet. Canplas, meanwhile, is undergoing expansion at both its head office and warehousing facility and its large manufacturing plant.
In the past year, Barrie issued more than 2,400 building permits valued at over $1 billion, indicating a vibrant and active industrial and commercial development market. Moreover, the city's economy is characterized by sectoral diversity, with a robust manufacturing sector complemented by growing healthcare, research, and health technology ecosystems.
With a young talent base – the city's median age is just 39.2 years – and availability of industrial and commercial land, Barrie is poised for the next wave of business investment. This vibrant economic landscape, coupled with significant projected population growth, points to an encouraging future for the industrial real estate market.
Barrie Industrial Properties Available for Lease – 20,000 SF+
Barrie Industrial Properties Available for Sale – 20,000 SF+
Barrie Industrial Land for Sale
Three Interesting Facts about Barrie
's Industrial Market
Over the past few years, Barrie has seen a number of new developments along major transportation routes such as Highway 400. Below, we are featuring three of the most recent, larger, state-of-the-art distribution facilities that are either under construction or in final planning stages. 
1. 90 Mapleview Drive West, Barrie – 236,636 SF – Development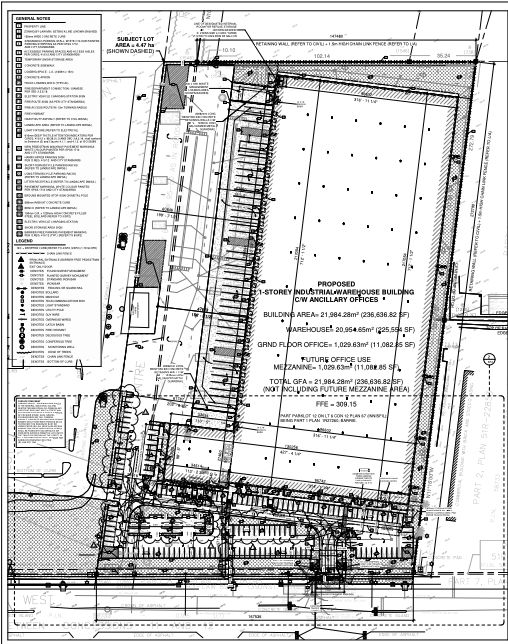 90 Mapleview Drive West, Barrie.
ARG Group is developing a 236,636 square foot industrial building at 90 Mapleview Drive West, approximately 5km from Downtown Barrie. The property will have a 40 foot clear height, 40 truck-level doors, 2 drive-in doors and trailer storage.
2. McKay Rd E & Highway 400, Barrie – 45 acres – Future Development Opportunity

McKay Road East & Highway 400, Barrie. Source: CBRE.
CBRE is offering 45 acres of land, approximately 42 of which are net developable – for sale for $49 million ($1,166,700 per net developable acre). The site is located at the southeast corner of Highway 400 & McKay Road East and is currently zoned agricultural and environmental protected, with the former expected to permit industrial intensification and commercial uses by end of summer 2023. The immediate area is slated to be a major future industrial and residential development hub. 
3. Park Place Business Campus, Barrie – 514,992 SF – Development

Park Place Business Campus, Barrie. Source: CBRE.
North American Development Group is constructing the Park Place Business Campus in Barrie – a 4-building industrial park totalling 514,992 SF. The development is targeting LEED and Zero Carbon Building Design certifications with 2024 occupancy. Buildings 1 through 4 will be 112,930, 91,744, 154,008, and 156,280 square feet in size, respectively, with 36 foot clear heights, ample shipping, and 60' staging bays. CBRE is managing the development pre-leasing.
Conclusion
Investors and occupiers see the value in constructing, acquiring, and leasing industrial real estate in periphery markets such as Barrie. Located just 90 minutes north of Toronto, and with a growing population in the surrounding region, Barrie offers a strong consumer base, access to major transportation routes, and the labour pool – all at a relative discount.
The GTA itself will continue to command premium rents and pricing which will be paid by investors and occupiers looking to remain in one of North America's premiere markets. That said, acquiring or leasing is difficult to execute due to competition and cost. As Barrie attracts people leaving the big city, businesses and capital are following close behind.
In the coming weeks, we will continue our examination of various submarkets with the aim of uncovering potential opportunities and strategies for industrial Owners and Occupiers. In the meantime, if you are an owner of industrial land or property with redevelopment potential, there are plenty of institutional and private buyers who would be willing to pay a premium to take it off your hands.
For a confidential consultation or a complimentary opinion of value of your property please give us a call.
Until next week…
Goran Brelih and his team have been servicing Investors and Occupiers of Industrial properties in Toronto Central and Toronto North markets for the past 30 years.
Goran Brelih is an Executive Vice President for Cushman & Wakefield ULC in the Greater Toronto Area.
Over the past 30 years, he has been involved in the lease or sale of approximately 25.7 million square feet of industrial space, valued in excess of $1.6 billion dollars while averaging between 40 and 50 transactions per year and achieving the highest level of sales, from the President's Round Table to Top Ten in GTA and the National Top Ten.
Goran is a Past President of the SIOR ‐ Society of Industrial and Office Realtors, Central Canadian Chapter.
Specialties:
Industrial Real Estate Sales and Leasing, Investment Sales, Design-Build and Land Development
About Cushman & Wakefield ULC.
Cushman & Wakefield (NYSE: CWK) is a leading global real estate services firm that delivers exceptional value for real estate occupiers and owners. Cushman & Wakefield is among the largest real estate services firms with approximately 53,000 employees in 400 offices and 60 countries.
In 2020, the firm had revenue of $7.8 billion across core services of property, facilities and project management, leasing, capital markets, valuation and other services. To learn more, visit www.cushmanwakefield.com.
For more information on GTA Industrial Real Estate Market or to discuss how they can assist you with your real estate needs please contact Goran at 416-756-5456, email at goran.brelih@cushwake.com, or visit www.goranbrelih.com.
Connect with Me Here! – Goran Brelih's Linkedin Profile: https://ca.linkedin.com/in/goranbrelih
Goran Brelih, SIOR
Executive Vice President, Broker
Cushman & Wakefield ULC, Brokerage.
www.cushmanwakefield.com
Office: 416-756-5456
Mobile: 416-458-4264
Mail: goran.brelih@cushwake.com
Website: www.goranbrelih.com