GTA Industrial Condo Developments in 2022
August 26th, 2022
Circumstances have a way of changing things.
We may believe that we are different, and that we can deal with anything that comes our way, however, pragmatism and risk-tolerance often dictate how we respond to changing conditions.
As summer rolls towards a close, we typically ramp up towards a busy fall through the holiday season. Per the ebbs and flows of the annual cycle, business decision-makers and investors – after having returned from some well-deserved rest – find themselves staring down the runway of the final third of the year, ready to make the necessary moves to hit their year-end goals.
However, the past two and a half years have been anything but normal. In 2020, we saw a 'black hole' of activity from early March through summer's beginnings, after which, there was a flurry of activity from June through December. Both were atypical, albeit, the busy period was welcomed by those sitting on the sidelines and waiting to see how events would unfold.
Since then, we have seen a bull industrial market unlike ever before. Retailers went all-in on e-commerce and omni-channel fulfilment. Logistics and transportation firms, feeling the squeeze of supply chain and labour constraints on one end, and unending consumer demands on the other, scooped up unparalleled volumes of warehousing and distribution space.
Which leads us to today. After many corporations and developers played the clear winning hand of industrial 'Big Box' development, we see some firms pulling back, while investors struggle to find industrial land.
Furthermore, many users and investors are unclear as to what the next 'shift' will bring; or even what the next shift will be, or when. Will our current paradigm continue? Will we see a reversal towards small- and mid-bay manufacturing? Will remote work spread populations and extend industrial networks further out? Or will we see Big Box morph into mega multi-storey warehouses and further intensification of use? Or all of the above?
So many forces seem to be converging, and the noise in the marketplace is so unbearably loud, with the 'influencers' peddling their version of the truth (never biased or oversimplified in any way).
All that is for certain is that we will see change. How, when, or what will be the trigger event, remains to be seen. In any event, industrial real estate is what facilitates the production, processing, storing, and movement of goods. And the need for all that, too, will remain indefinitely.
With that said, for this week's newsletter, we will revisit the topic of industrial condo developments within the 416-area of North York, Etobicoke, and Scarborough, while taking a look at some of the major projects underway.
Why is the 416-area so attractive to industrial investors, developers, and occupiers?
While land and industrial assets within these submarkets can be quite expensive when compared to developing in municipalities such as Waterloo, Brantford, Pickering, Caledon, or Aurora, the fact is that location, location, location has and always will drive real estate. And given we may experience an economic contraction in the coming months, these areas may represent a hedge against speculative risk.
For occupiers: As mentioned, being well-located within the Core means proximity to labour and a higher-density consumer base. Additionally, small- and mid-bay industrial product is incredibly scarce, especially as much of the focus in the development community over the past decade has centered around Big Box warehouses.
For investors: As occupiers look to take advantage of the location benefits, investors can satisfy that need and collect a premium on rents or sale values. And as mentioned, with small- and mid-bay product a rare offering, the demand for these assets is incredibly robust.
416-Area Industrial Condo Development Sites
Vic Park – 3751 Victoria Park Avenue, North York – Forager
3751 Victoria Park Ave, North York. Source: Forager.
Forager Real Estate Partners is developing a 148,131 SF industrial condo with 12 units ranging in size from 9,000 SF to 21,000 SF with Q4 2023 completion. Each unit has 22' clear heights, 200A/600V power, drive-in doors, and can accommodate 53' trailers. Located in proximity to multiple 400-series highways, Vic Park provides excellent access to transportation routes, the labour pool, and amenities. CBRE is currently marketing the asset. For more information, visit 3751vicpark.com. 
Consumers Square – 280-422 Consumers Road, North York – Mirabelli Corporation
280-422 Consumers Rd, North York. Source: Mirabelli Corporation.
Mirabelli Corporation is developing a 147,644 SF, mixed-use condo with 33 industrial, office, and retail units ranging in size from 1,900 SF to 6,100 SF and with Q4 2023 completion. Each unit has 16' clear heights and one truck-level door. Consumers Square is located at Highway 401 and the DVP and falls within the Consumers Road Business Park Node, providing premier access to labour, transit, and amenities. 
120 Norfinch Drive, North York – Mirabelli Corporation
120 Norfinch Drive, North York. Source: Mirabelli Corporation.
Mirabelli Corporation is completing an industrial condo conversion with 22 units totalling 71,000 SF. Occupancy is targeted for Q3 2022, and available configurations range from 2,800 SF to 71,000 SF. Each unit has 18' clear and either one truck-level door or drive-in door with a ramp; with larger configurations benefitting from additional shipping. A stone's throw from Highway 400, the asset is centrally-located, just minutes from Highways 401, 7, and 407. 
Morningside Business Centre – 2560, 2540, & 2340 Morningside Avenue, Scarborough – Beedie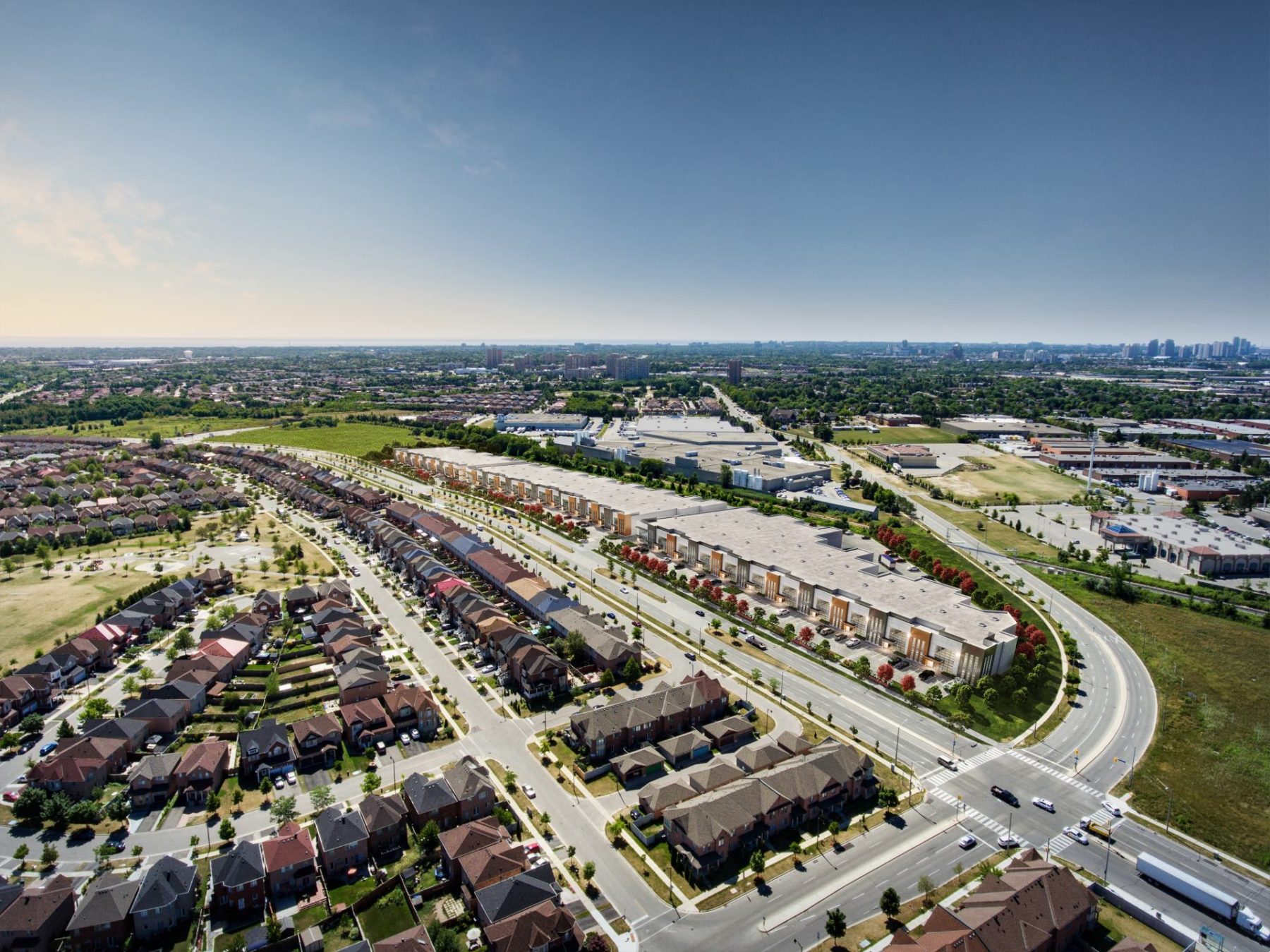 2560, 2540, & 2340 Morningside Avenue, Scarborough. Source: Beedie.
Beedie is developing a three-building, 347,910 SF industrial condo with 36 units ranging in size from 6,883 SF to 14,428 SF. Condos will have 28' clear heights and a mix of shipping from one drive-in door up to 2 truck-level and 1 drive-in doors. Building 1 at 2560 Morningside Avenue will be ready for occupancy in Q1 2023, while Building 2 at 2450 Morningside Avenue and Building 3 at 2340 Morningside Avenue will be ready in Q2 2023. Cushman & Wakefield is representing Beedie. Learn more at morningsidebusinesscentre.com.
43 Upton Road, Scarborough – Ripple Developments

43 Upton Road, Scarborough. Source: Ripple Developments.
Ripple Developments acquired the 3.34-acre site at 43 Upton Road with intentions of constructing a 59,000 SF industrial condo with 32 units. 
568 Passmore Avenue, Scarborough – Beedie
568 Passmore Avenue, Scarborough. Source: Beedie.
Beedie has announced the upcoming development of a state-of-art, three-building industrial property.
35-37 Stoffel Drive, Etobicoke – Mirabelli Corporation
35-37 Stoffel Drive, Etobicoke. Source: Mirabelli Corporation.
Mirabelli Corporation is completing an industrial condo conversion with 15 units totalling 38,959 SF. Clear heights range from 16' to 28', with 10-15% office area and 3 truck-level and 12 drive-in doors. The site has direct frontage onto Highway 401 and is just minutes from Toronto Pearson Airport, providing excellent access to transportation routes and the labour pool.
Conclusion
If you are looking to acquire small- or -mid-bay industrial space within the GTA Core, then an industrial condo may be your best option. While there are several great offerings on or coming to the market, these assets sell quickly, and at a premium to traditional industrial facilities.
On the development or conversion side, industrial condos are attractive as they can be constructed in infill sites, proximal to the Core's consumer and economic base. With industrial vacancies at historic lows, and with rental rates having increased so dramatically over the past 5 years, there are many industrial users who would welcome the opportunity to own well-located space.
If you are looking to break ground and move in sometime in 2023, you will need to engage with municipalities as soon as possible and if not then it is probably already too late.
However, it is never too late to begin planning and exploring. The GTA's industrial market is truly one of the most dynamic in the world; and opportunities arise each and every day. Land will be the key to success, because once in hand, the rest of the industry will work to help convert it into much-needed industrial space.
Finally, if you are thinking of selling industrial-zoned or designated land, then you are in control of a much-needed and prized asset. Selling can generate a nice capital injection for your business or set up your retirement. However, for those with the desire and appetite, partnering with the right developer can potentially result in equity and long-term cashflow, if executed properly. 
With that said, if you would like a confidential consultation or a complimentary opinion of value of your industrial asset, please give us a call.
Goran Brelih and his team have been servicing Investors and Occupiers of Industrial properties in Toronto Central and Toronto North markets for the past 30 years.
Goran Brelih is a Senior Vice President for Cushman & Wakefield ULC in the Greater Toronto Area.
Over the past 30 years, he has been involved in the lease or sale of approximately 25.7 million square feet of industrial space, valued in excess of $1.6 billion dollars while averaging between 40 and 50 transactions per year and achieving the highest level of sales, from the President's Round Table to Top Ten in GTA and the National Top Ten.
Goran is a Past President of the SIOR ‐ Society of Industrial and Office Realtors, Central Canadian Chapter.
Specialties:
Industrial Real Estate Sales and Leasing, Investment Sales, Design-Build and Land Development
About Cushman & Wakefield ULC.
Cushman & Wakefield (NYSE: CWK) is a leading global real estate services firm that delivers exceptional value for real estate occupiers and owners. Cushman & Wakefield is among the largest real estate services firms with approximately 53,000 employees in 400 offices and 60 countries.
In 2020, the firm had revenue of $7.8 billion across core services of property, facilities and project management, leasing, capital markets, valuation and other services. To learn more, visit www.cushmanwakefield.com.
For more information on GTA Industrial Real Estate Market or to discuss how they can assist you with your real estate needs please contact Goran at 416-756-5456, email at goran.brelih@cushwake.com, or visit www.goranbrelih.com.
Goran Brelih, SIOR
Senior Vice President, Broker
Cushman & Wakefield ULC, Brokerage.
www.cushmanwakefield.com
Office: 416-756-5456
Mobile: 416-458-4264
Mail: goran.brelih@cushwake.com
Website: www.goranbrelih.com