June 16th, 2023
"You will not find it difficult to prove that battles, campaigns, and even wars have been won or lost primarily because of logistics." 
Logistics is an interesting field.
Much like industrial real estate, it was never considered 'sexy' until one-click purchases and same-day deliveries became ingrained in the zeitgeist of society.
If you look back ten or twenty years, all the flash and pizzazz was surrounding downtown office leasing, major infill development projects, and prominent retail brands expanding into the Canadian market with hip flagship stores.
At that time, industrial product was typically seen as older, unclean, and boring. Today, modern warehouses boast beautiful facades, high ceilings, vast windows, bright lights, spotless floors, and cutting-edge technologies.
Industrial deals are shattering records. Values are creating generational wealth for sellers and long-term cashflows for investors. Tenants are receiving world-class product to help execute their business objectives and capture explosive demand for goods and services. Brokers are earning sizeable fees and the asset class, in general, is viewed as a sturdy ship sailing perilous seas.
And the reason is – because while alternative asset classes such as office and retail struggle due to reduced demand – people continue to insist that goods are made and moved at incredible speeds.
This non-negotiable need from consumers means that brands must be able to have their goods physically present in proximity and ready-to-ship at any moment's notice. And while the logistics behind this process is incredibly complex, the crux of fulfilling these promises lies in being located as close as possible to the delivery destination.
Similar to our recent newsletters covering up-and-coming submarkets on the periphery of the Greater Toronto Area, the rising cost of living and ability to work remotely has caused large numbers of people to move further away from the City core. Guelph, being a well-known municipality with solid manufacturing, education, and tech industries, as well as being a family-friendly environment, has attracted a sizeable portion of this movement.
Thus, where people go, businesses follow. And this dynamic has resulted in submarkets such as Guelph – which are typically between 45 and 90 minutes outside Toronto along a major transportation route – have gained notoriety as secondary regional hubs for major logistics and warehousing companies looking to take advantage of an expanded consumer base, an educated labour pool, and a discount in costs.
That's why, in the coming weeks, we will analyze a number of sought-after periphery markets within the broader Greater Toronto Area and Greater Golden Horseshoe. We will aim to provide some deep insight into each, as well as provide some detail on potential opportunities that may fit in with your real estate or investment strategy.
For this week's newsletter, we'll feature the City of Guelph and examine the state of its industrial market, including trends, transactions, and developments. 
Guelph Industrial Market Snapshot – Q1 2023 
Source: Cushman & Wakefield Research.
Looking at the numbers, we have over 806M SF of industrial space across the GTA; with Guelph having approximately 27.5M SF of inventory. At face value, it may appear that Guelph is a tiny market. That said, and for comparison, this figure places Guelph just ahead of Burlington (23.4 MSF) and just behind Markham (31.8 MSF) – and at about half the size of the GTA East (Durham) markets (49.9 MSF total).
Furthermore, Guelph has become incredibly popular with tenants looking to escape the massive jump in rents and values across the GTA, as well as with developers looking for a discount on industrial development land.
Despite a similar – yet lower absolute – increase in rents and values in Guelph, we expect to see a relative discount compared to the GTA.
Significant Lease Transactions in Guelph – 20,000 SF+  
Significant Sales Transactions in Guelph – 20,000 SF+  
Significant Industrial Leasing Opportunities – Guelph/Puslinch

On-Market Land Opportunities – Guelph/Puslinch
Four Interesting Facts about Guelph's Industrial Market
Located approximately an hour west of Toronto, off Highway 6 to the north of Highway 401, the City of Guelph is a leader in manufacturing, agriculture, technology, and education.
Below, we are featuring four of the most recent, larger, state-of-the-art distribution facilities that are either under construction or in final planning stages. 
540 Hanlon Creek Boulevard, Guelph – 143,544 SF – Development

540 Hanlon Creek Boulevard, Guelph. Source: CBRE.
Two modern industrial warehouses are being constructed at 540 Hanlon Creek Boulevard in Guelph. Building A, now available for lease with Q4 2023 occupancy, will consist of 143,544 square feet, 2 drive-in doors, 26 truck-level doors and a 36 foot clear height. Building B, currently pre-leased, will be 75,544 square feet in size with 5 drive-in doors, 7 truck-level doors, and a 36 foot clear height. CBRE is managing the leasing of the asset.
2. 1080 Southgate Drive, Guelph – 444,186 SF – Development
1080 Southgate Drive, Guelph. Source: Panattoni.
Panattoni is constructing yet another Class A modern warehouse; this time a 444,186 square foot facility at 1080 Southgate Drive in Guelph. Situated on 22 acres of land just east of Highway 6, the development offers connectivity to Highway 401 and access to Southern Ontario. The property will include 40 foot clear height, 61 truck-level and 2 drive-in doors, and outside storage. Finally, the project is targeting LEED certification. 
3. 7475 McLean Road, Puslinch – 419,250 SF – Development
7475 McLean Road, Puslinch. Source: C&W Research.
Cooper Construction is bringing to market 838,500 square feet of premier industrial space across 2 buildings each with 40 foot clear heights, 66 truck-level and 4 drive-in doors, and ample trailer parking. The development in Puslinch is targeting LEED certification and occupancy is expected to be in Q4 2024. JLL is managing the leasing of the asset.
McLean Rd W & Highway 401, Puslinch – 642,850 SF – Development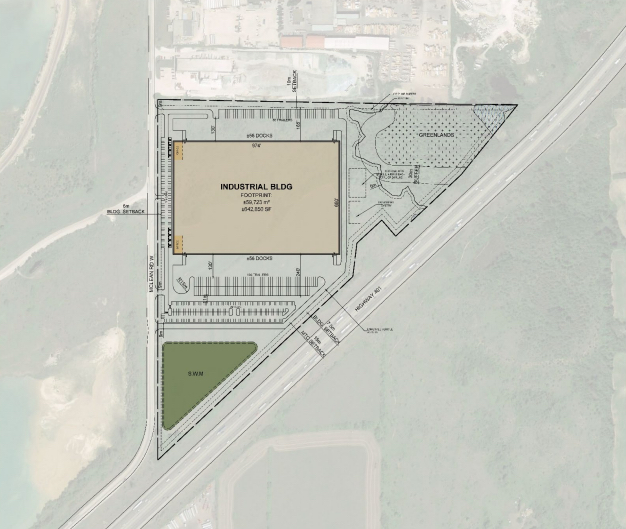 McLean Rd W & Highway 401, Puslinch. Source: CBRE.
Broccolini is developing a 642,850 square feet industrial facility in Puslinch, Ontario with direct frontage on McLean Road and Highway 401, and in close proximity to Guelph, Cambridge, Kitchener-Waterloo, and Milton. The property boasts 112 truck-level and 4 drive-in doors with 164 trailer parking spaces and is slated for delivery in Q1 2025. CBRE is marketing the asset for pre-lease.
Conclusion
With the Greater Toronto Area noticeably more expensive than some of its counterparts, such as the City of Guelph, it is no wonder that businesses and investors have turned their eyes westward to municipalities with greater development opportunities and with connectivity to major transportation routes.
The GTA itself will continue to command premium rents and pricing which will be paid by investors and occupiers looking to remain in one of North America's premiere markets. That said, acquiring or leasing is difficult to execute due to competition and cost. As Guelph, like many of its counterparts in the Greater Golden Horseshoe, attracts people leaving the big city, businesses and capital are following close behind.
In the coming weeks, we will continue our examination of various submarkets with the aim of uncovering potential opportunities and strategies for industrial Owners and Occupiers. In the meantime, if you are an owner of industrial land or property with redevelopment potential, there are plenty of institutional and private buyers who would be willing to pay a premium to take it off your hands.
For a confidential consultation or a complimentary opinion of value of your property please give us a call.
Until next week…
Goran Brelih and his team have been servicing Investors and Occupiers of Industrial properties in Toronto Central and Toronto North markets for the past 30 years.
Goran Brelih is an Executive Vice President for Cushman & Wakefield ULC in the Greater Toronto Area.
Over the past 30 years, he has been involved in the lease or sale of approximately 25.7 million square feet of industrial space, valued in excess of $1.6 billion dollars while averaging between 40 and 50 transactions per year and achieving the highest level of sales, from the President's Round Table to Top Ten in GTA and the National Top Ten.
Goran is a Past President of the SIOR ‐ Society of Industrial and Office Realtors, Central Canadian Chapter.
Specialties:
Industrial Real Estate Sales and Leasing, Investment Sales, Design-Build and Land Development
About Cushman & Wakefield ULC.
Cushman & Wakefield (NYSE: CWK) is a leading global real estate services firm that delivers exceptional value for real estate occupiers and owners. Cushman & Wakefield is among the largest real estate services firms with approximately 53,000 employees in 400 offices and 60 countries.
In 2020, the firm had revenue of $7.8 billion across core services of property, facilities and project management, leasing, capital markets, valuation and other services. To learn more, visit www.cushmanwakefield.com.
For more information on GTA Industrial Real Estate Market or to discuss how they can assist you with your real estate needs please contact Goran at 416-756-5456, email at goran.brelih@cushwake.com, or visit www.goranbrelih.com.
Connect with Me Here! – Goran Brelih's Linkedin Profile: https://ca.linkedin.com/in/goranbrelih
Goran Brelih, SIOR
Executive Vice President, Broker
Cushman & Wakefield ULC, Brokerage.
www.cushmanwakefield.com
Office: 416-756-5456
Mobile: 416-458-4264
Mail: goran.brelih@cushwake.com
Website: www.goranbrelih.com