November 25th, 2022
In much of the business world, times are changing.
Major announcements have recently been made around downsizing and layoffs, from tech companies to manufacturers, and to the surprise of many, real estate landlords and global brokerages.
We find ourselves in an uncanny position because, if you were to ask a crowd of people whether or not we are in a recession you would get a range of responses, with caveats, exceptions, and assumptions. The truth is, nobody really knows for certain at this point in time.
On the surface, things are slowing down, and there is tremendous uncertainty towards the future, however, we are all carrying on relatively similar to normal. The industrial market, particularly across the Greater Toronto Area, has not shown any major signs of slowing down, although its astronomical growth is likely to stabilize and march forward at a more reasonable pace.
And thus, it's difficult what to make of all the data points. We do know that, even in a worst-case scenario, the GTA industrial market will remain tight for years to come. And despite a record-setting level of new construction in the pipeline, space will be difficult to lease or acquire.
As a result, occupiers and investors continually have their finger on the pulse of the market for new opportunities. Looking for these opportunities within the broader context is all we can really do.
Looking at the market right now, we see different angles and considerations for where occupiers may be moving given rising costs and lack of industrial inventory, coupled with a constant need to tap into the labour pool and retain access to key transportation routes.
While many are going west into secondary markets, east into Durham Region, or looking for infill sites within the Core, one interesting play is to follow the main arterial routes in and out of the City, such as Highways 400, 404, 407, the QEW, and future Bradford Bypass and GTA West Highways.
That is why, today, we will hone in on and examine some of the more prominent GTA industrial developments along the Highway 404 Corridor.
Highway 404 Corridor Industrial Developments
What You Need to Know – Key Highway 404 Corridor Industrial Developments

Below are some more in-depth commentary regarding these key developments. For further details or intel on leasing rates and occupancy timelines, please contact our team.
  1. 1 Steelcase Road West – QuadReal – 795,678 SF over 3 Buildings
1 Steelcase Road West, Markham. Source: QuadReal.
QuadReal is constructing three industrial properties at the southwest corner of Woodbine Avenue and Steelcase Road West in Markham. Building 1 will be 336,738 SF in size; comprised of a 159,516 SF ground floor, 150,941 SF second floor, and 26,281 SF covered truck court.
Buildings 2 and 3 will be 194,399 SF and 264,541 SF in size, respectively. Originally acquired from Liberty Development Corporation for $93 million in November 2020, the approximately 30-acre site has been slated for redevelopment.
Woodbine Ave & Major Mackenzie Drive, Markham – Triovest – 1 MSF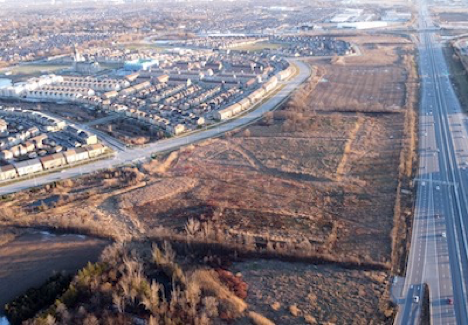 Woodbine Ave & Major Mackenzie Drive, Markham. Source: Triovest.
In December 2021, Triovest acquired 45.78 acres of industrial development land along Highway 404 in Markham off-market from Lesso Mall Canada for $106.5 million. According to a press release, Triovest plans to construct approximately one million square feet of industrial space over three buildings.
The developer looks to accommodate industrial users with needs from 100,000 SF to 500,000 SF while providing ample clear heights, shipping, and – of course – a phenomenal location in proximity to Highways 404 and 407.
11050 Woodbine Avenue & 51 Mobis Drive, Markham – Berskire Axis/Fiera Real Estate – 630,000 SF – Project Completed & Fully Leased
11050 Woodbine Avenue & 51 Mobis Drive, Markham. Source: Berkshire Axis.
Berkshire Axis and Fiera Real Estate have completed construction on two Class-A industrial buildings at 11050 Woodbine Avenue in Markham. Building 1 is 300,000 SF in size with 40 truck-level and 7 drive-in doors. Building 2 is 330,000 SF in size with 37 truck-level and 7 drive-in doors. Both properties have 36 foot clear heights with ample parking and direct exposure to Highway 404 to the west.
The assets were being touted as "GTA's newest mid-bay solution", with units ranging in size from 28,000 SF to 300,000 SF and have since been completely leased.
404 Business Park, Richmond Hill – Orlando Corporation – 1,300,000 SF
404 Business Park, Richmond Hill. Source: Google.
According to Orlando Corporation, the 404 Business Park is comprised of 87 acres of land over several parcels in Richmond Hill between Leslie Street and Highway 404, just north of 16th Avenue. Intentions are to build up to 1.3 MSF of "high-cube, state-of-the-art space with an additional 100,000 square feet of proposed commercial and industrial space along Leslie Street."
Addison Hall Business Park, Aurora – Emery Investments
Addison Hall Business Park, Aurora. Source: Emery Investments.
Spanning from Leslie Street to Highway 404 in Aurora, Emery Investments is offering for sale parcels in the 70-acre, Addison Hall Business Park. The site is fully serviced, zoned, and divisible in parcels ranging in size from 2.2 acres to 11.7 acres.
Zoning differs per parcel and offers retail, office, institutional, and industrial development. To date, we have seen numerous projects completed, with several opportunities remaining. Small- to mid-bay users looking to lease or complete a design-build in a great location should keep this option in mind when looking for space.
Conclusion
Despite the economic uncertainty and difficulty in securing space across the GTA, demand for industrial space from Occupiers remains strong.
And, should we find ourselves in a downturn, what industrial Tenants really need is the right strategy to balance costs while securing space that will allow them to continue operating and growing.
This strategy begins with site selection – a process driven largely by costs and location, with the former seeing development move further out of the Core, and the latter pushing this movement along the major highway network.
For investors and developers, there remain many opportunities waiting to be uncovered as private investors continue to cash out or enter into a JV to add value to their assets.
With that said, if you would like a confidential consultation or a complimentary opinion of value of your industrial asset, please give us a call.
Goran Brelih and his team have been servicing Investors and Occupiers of Industrial properties in Toronto Central and Toronto North markets for the past 30 years.
Goran Brelih is a Senior Vice President for Cushman & Wakefield ULC in the Greater Toronto Area.
Over the past 30 years, he has been involved in the lease or sale of approximately 25.7 million square feet of industrial space, valued in excess of $1.6 billion dollars while averaging between 40 and 50 transactions per year and achieving the highest level of sales, from the President's Round Table to Top Ten in GTA and the National Top Ten.
Goran is a Past President of the SIOR ‐ Society of Industrial and Office Realtors, Central Canadian Chapter.
Specialties:
Industrial Real Estate Sales and Leasing, Investment Sales, Design-Build and Land Development
About Cushman & Wakefield ULC.
Cushman & Wakefield (NYSE: CWK) is a leading global real estate services firm that delivers exceptional value for real estate occupiers and owners. Cushman & Wakefield is among the largest real estate services firms with approximately 53,000 employees in 400 offices and 60 countries.
In 2020, the firm had revenue of $7.8 billion across core services of property, facilities and project management, leasing, capital markets, valuation and other services. To learn more, visit www.cushmanwakefield.com.
For more information on GTA Industrial Real Estate Market or to discuss how they can assist you with your real estate needs please contact Goran at 416-756-5456, email at goran.brelih@cushwake.com, or visit www.goranbrelih.com.
Goran Brelih, SIOR
Senior Vice President, Broker
Cushman & Wakefield ULC, Brokerage.
www.cushmanwakefield.com
Office: 416-756-5456
Mobile: 416-458-4264
Mail: goran.brelih@cushwake.com
Website: www.goranbrelih.com