Historical Industrial Sales Volumes and Major Transactions in GTA West Markets
Understanding and Forecasting GTA Industrial Values
September 17th, 2021
Beating records is an inspiring – even addictive – phenomenon. The moment you have broken one, whether individually or collectively, there grows an urge to demonstrate to yourself or the market that you can do it again; if only to prove that it was not by chance.
When it comes to the Greater Toronto industrial market, however, the many investors, developers, and landlords purchasing properties and portfolios aren't proactively looking to pay more to prove a point. If anything, they are trying to find, unlock, and create value so as to stabilize their assets more quickly; with greater margins, and with more predictability.
Why, therefore, have values and rental rates consistently climbed to new heights over the past several years?
Well, the broad stroke narrative is about the basic forces of supply and demand.
Looking granularly at the numbers, as we will in this newsletter, there appears to be a specific inflection point where the scales tipped into an imbalance that has created the market we currently live in. And for these submarkets specifically, even a complete economic shutdown could not impede – for long – the ferocious demand to own or occupy space in the heart of the GTA's (and Southern Ontario's) Industrial market.
Yes, there are many other factors at play, such as delays in the permitting process, material and labour shortages, and regulations stemming from the pandemic. And yes, the industrial asset class is itself being transformed and modernized by the e-commerce and logistics industry.
We find ourselves in a loop, if you will. An equilibrium within a set of differential equations whereby moving into a new balance would require a massive shock to either demand or supply, or both.
Until that time comes, we should expect the gravitational pull of space-hungry behemoths such as Amazon to anchor availabilities at near-zero levels; forcing values to continue creeping ever upward.
So without further ado, let us examine the historical sales volumes of the past five years, as well as the major year-to-date transactions, in order gain a better understanding of value within the Greater Toronto industrial market.
Greater Toronto West Markets (Mississauga, Brampton, Milton/Halton Hills, Bolton/Caledon, Oakville & Burlington)
Historical Sales Volume Breakdown – Q1 2016 to Q2 2021
The GTA West Industrial Markets are by far the largest industrial markets in the GTA, representing about 45% of GTA Industrial Inventory, or about 371,000,000 SF. The region is often viewed as the epicentre of the broader industrial market given its enormous share of the massive inventory.
Sales volume, pricing, rental rates, and transaction activity is strong all around. Although the West markets are not the most expensive or scarce, they consistently perform with little downside. With phenomenal access to transportation routes and a proximal location to both the City core and outlying towns across the Golden Horseshoe and Southern Ontario, it's no surprise that many of the largest players across every sector have some form of presence in the area.
This dynamic has led to a continued appetite and favourability from developers towards both the established submarkets of Mississauga, Brampton, and Oakville, as well as the maturing submarkets of Milton, Halton Hills, and Caledon. 
Figure 1 – GTA West – Historical Sales Volume Breakdown – Q1 2016 to Q2 2021. Source: RealNet.
Looking to our previous issues, we saw that the Central submarkets were largely insulated from the economic shutdowns. Similarly, the West markets bounced back swiftly after two quarters of a 75% and 50% decline in sales volume, respectively.
As depicted in Figure 2, and aside from this period of adversity, the West markets have seen explosive demand for industrial product since Q1 2017.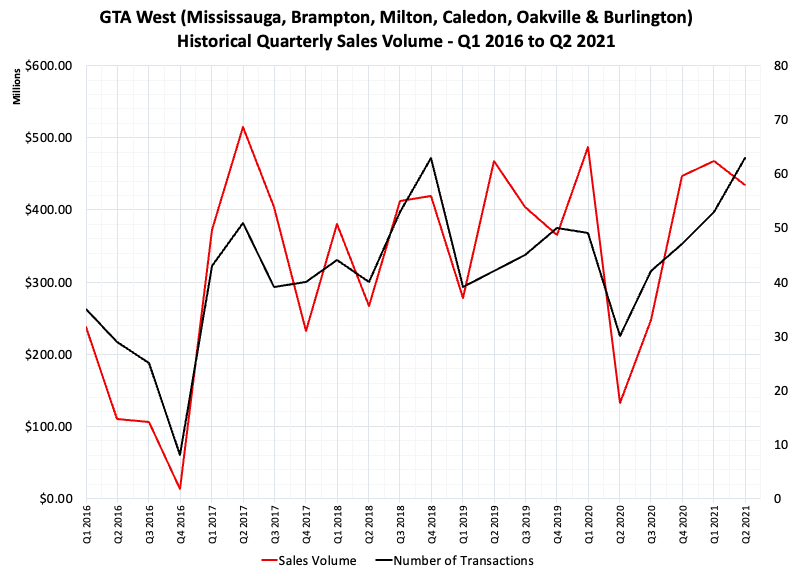 Figure 2 – GTA West – Historical Quarterly Sales Volume – Q1 2016 to Q2 2021. Source: RealNet.
As seen in Figure 3, the region experienced a decline in transaction volume from 2018 through 2020. This can be expected, first and foremost, from the economic shutdowns in early 2020, and secondly due to a tightening of supply. That being said, it appears as if the markets are on pace to set a new record with 116 trades occurring in the first half alone.
Regarding the sales volumes, 2019 saw an increase year-over-year despite a drop in trades as pricing and deal sizes continued to increase. Important to note, although both activity and volume dropped in 2020, they weren't too far off 2019 totals despite almost no activity in two quarters. 
Figure 3 – GTA West – Historical Yearly Sales Volume – 2016 to 2021-YTD. Source: RealNet.
Finally, looking at Figure 4, we see that the top 10 transactions year-to-date total approximately $618 million for 2.1 million square feet of space. Six of these ten trades occurred in the third quarter; which has already seen $730 million in sales volume. This puts the running sales volume count at approximately $1.63 billion, making 2021 a record year for the GTA West Industrial markets. 
Year-to-Date 2021 – Top Ten Transactions in GTA West
Figure 4 – Year-to-Date 2021 – Top Ten Transactions – GTA West. Source: RealNet.

390 Orenda Road, Brampton
After looking through the data, we hope you can not only begin to see some of the broader patterns but perhaps also create hypotheses as to why things may have played out the way they did. We also hope you can also begin to make soft predictions about where values and the market is headed.
Our thoughts are this:
industrial is definitively being fuelled by E-commerce demand, as well as other verticals such as online grocery sales, transportation, and even film production;

investors are keen to deploy capital, often willing to pay a premium, further pushing up values and compressing cap rates;

supply chain disruptions are causing many businesses to on-shore their operations, adding to demand;

these disruptions are also causing businesses to increase inventories where possible, further bolstering need for space;

land is scarce, as is available product;

new supply is being hamstrung by labour and material shortages, as well as delayed permitting and zoning processes. 
Key Takeaways
For Investors: Now that we seem to be caught in a supply trap, one should expect to see values increase further, albeit at a decelerating pace relative to the jump we saw over the past 5 years. Only future data will tell how much further values have to go… That being said, it's very likely that cap rates will continue to compress and pricing will go up further.
For Occupiers: Similarly, one should expect further increases in pricing. If you want to lease, you'll have to pay more. If you want to own, you'll have to pay more. In addition, it will be more difficult to find opportunity and the deals may take more time to complete unless you are lucky or hit the timing perfectly. Further to this, if you cannot find anything, you may have to develop; only if you can find any land available to do so.
Overall, prepare to pay more. Introduce more time into your pursuits of deals. And be prepared to build (two years or more in advance) or complete an early renewal (18 to 24 months out) if you want to stay at your current location.
Finally, for a confidential consultation or a complimentary opinion of value of your property please give us a call.
Until next week…
Goran Brelih and his team have been servicing Investors and Occupiers of Industrial properties in Toronto Central and Toronto North markets for the past 29 years.
Goran Brelih is a Senior Vice President for Cushman & Wakefield ULC in the Greater Toronto Area.
Over the past 29 years, he has been involved in the lease or sale of approximately 25.7 million square feet of industrial space, valued in excess of $1.6 billion dollars while averaging between 40 and 50 transactions per year and achieving the highest level of sales, from the President's Round Table to Top Ten in GTA and the National Top Ten.
Specialties:
Industrial Real Estate Sales and Leasing, Investment Sales, Design-Build and Land Development
About Cushman & Wakefield ULC.
Cushman & Wakefield (NYSE: CWK) is a leading global real estate services firm that delivers exceptional value for real estate occupiers and owners. Cushman & Wakefield is among the largest real estate services firms with approximately 53,000 employees in 400 offices and 60 countries.
In 2020, the firm had revenue of $7.8 billion across core services of property, facilities and project management, leasing, capital markets, valuation and other services. To learn more, visit www.cushmanwakefield.com.
For more information on GTA Industrial Real Estate Market or to discuss how they can assist you with your real estate needs please contact Goran at 416-756-5456, email at goran.brelih@cushwake.com, or visit www.goranbrelih.com.
Connect with Me Here! – Goran Brelih's Linkedin Profile: https://ca.linkedin.com/in/goranbrelih
Goran Brelih, SIOR
Senior Vice President, Broker
Cushman & Wakefield ULC, Brokerage.
www.cushmanwakefield.com
www.siorccc.org
Office: 416-756-5456
Mobile: 416-458-4264
Mail: goran.brelih@cushwake.com
Website: www.goranbrelih.com