Multi-Storey Industrial Warehouses in Action
The Future of Industrial Warehousing
January 15th, 2020
Let me tell you a story.
This isn't the one with a daring hero or an epic journey against insurmountable odds. Nor is it one with a happy ending. In fact, it has no ending at all, as this tale continues to unfold and write itself in real-time.
Whereby most accounts are told from a personal or psychological perspective, this one simply tells of the various forces at-large that are at play, and how their effects are manifesting in the creation of a type of property that has yet to be proven and adopted by the mainstream in North America – and even – the greater world.
What's this, say you?
It is the futuristic, feat of engineering that captures the imagination and carries us off into a world with drones and flying cars a la Blade Runner. It's a concept so foreign and complex in execution that it would send many developers and contractors running for the hills. Strangely enough, it is also one that has its history in Asia for well over two decades; where builders have, as a response to necessity, cast aside notions of what can or can't be done. 
An amenity pier connects to public walking trails, image via Oxford Properties Group. Source: SkyRise Vancouver
The reason it has yet to become a staple of commercial properties stateside is simply for pragmatic reasons. There was never a real need to go through all of the zoning, design, architectural, and financial hurdles that dramatically amplify risk and eat into pre-existing, easy, and healthy margins (analysts and underwriters beware).
As we enter into 2021, we are talking about a product in an asset class that is not only 'on fire' as it is so popularly described, but rather, it has become multi-dimensional in its forms and applications.
It has become the 'legs' for dozens of industries to operate via social distancing and same-day deliveries.
It has become the carrier of our food, the creator of our streaming content, the laboratory for our medicines, as well as the manufacturer of our goods.
The asset class is industrial.
And the property is multi-storey industrial warehousing.
(And yes, it's coming to Canada soon… actually, it is under construction, as we will highlight in one of our upcoming issues…)
Multi-Storey Industrial Warehouses in Action
In our final issue in our series examining multi-storey warehouses – where we have explored their history, their evolution, their anatomy and feasibility, as well as the market forces at play – we will take a brief look at some of the various projects announced, under construction, or completed throughout Canada and the United States.
While many of these initiative are unique and yet to be considered a 'gold standard' for future multi-storey industrial developments, they can provide some insight into how form has manifested as a result of the requisite functions, as well as the constraints of the given market.
So without further ado, let's dive in…
Brooklyn, NY
According to BisNow, "Bridge Development Partners and DH Property Holdings have joined forces to acquire an 18-acre site in Brooklyn, where they plan to a build a four-story, 1.3M SF distribution center, the largest multistorey warehouse in the United States.
"The joint venture, backed by equity partner Banner Oak Capital Partners, acquired Sunset Industrial Park along the Gowanus Canal for $255M from The 601W Cos."
"Bridge and DH, run by developer Dov Hertz, plan to demolish the existing brick industrial buildings on the site and replace them with the behemoth. The warehouse would allow trucks to access all four floors, with 38-foot clearance heights on the bottom two floors and 28-foot clearances on the top two."
A rendering of Sunset Industrial Park, a four-story, 1.3M SF warehouse planned in Brooklyn. Source: BisNow
And according to TheRealDeal, "Dov Hertz's DH Property Holdings, in partnership with Goldman Sachs Asset Management, acquired a four-acre development site next to the IKEA store in Red Hook" back in late 2017.
They have since "constructed a 336,350-square-foot, multi-story e-commerce distribution center on the site at 640 Columbia Street," according to their leasing website (via JLL) at 640columbia.com.
640 Columbia Street, Source:  JLL via 640columbia.com
Bronx, NY
In another feature published by BisNow, "In New York — where more than 11M SF of industrial space was wiped out in rezoning between 2007 and 2016, according to analysis last year from Ariel Property Advisors — industrial developer Prologis is banking on multistorey warehouses as the answer."
"The San Francisco-based company is marketing space in its 205K SF, two-level warehouse at 1055 Bronx River Ave., which it renovated to feature 10 loading docks that can accommodate 53-foot trailers."
"The former ABC Carpet & Home outlet store is the first multistorey warehouse Prologis has developed on the East Coast."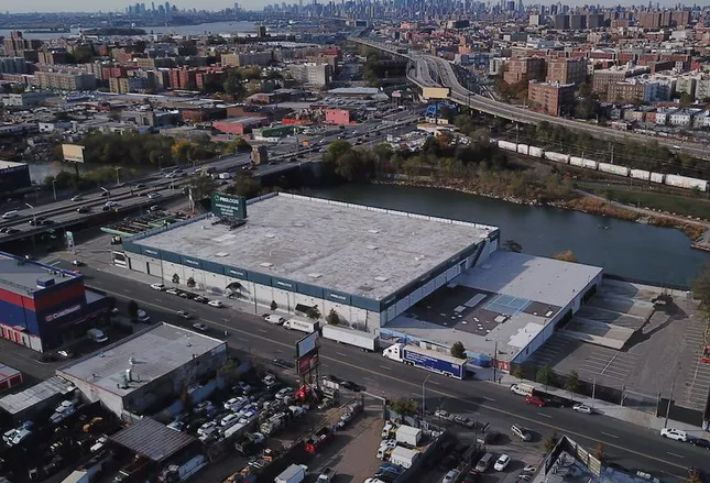 Prologis' multistory warehouse facility in the Bronx. Source: BisNow
Further, TheRealDeal reported in April 2020 that "Andrew Chung's Innovo Property Group and Square Mile Capital Management have secured $305 million in construction financing for a 1 million-square-foot industrial development in the Bronx."
According to their leasing website, "2505 Bruckner is a state-of-the-art multi-story urban logistics facility that will deliver unparalleled access to over 9.4 million people in a 15-mile radius. situated at the apex of five major highways, the 968,000 square-foot building is the largest, most efficient logistics facility in New York City, set for completion in 2022."
Innovo Property Group's Multi-Storey Warehouse at 2505 Bruckner, Bronx, NY. Source: JLL via 2505bruckner.com
According to Welcome2TheBronx.com, "over in Oakpoint on 149th Street, a 1.24 million square foot warehouse spread across four levels was announced making it the largest in the region and the only one with direct rail access, which for the South Bronx is of critical importance to get as many trucks off the road."
The proposed Bronx Logistics Center in Oakpoint. Source: Welcome2TheBronx
Seattle, WA –  Prologis Georgetown Crossroads
According to Prologis' website, "this three-floor 590,000 SF (54,000 SQM) industrial warehouse minutes from downtown Seattle is scheduled for completion in 2018. The first of its kind in the U.S., the building will feature truck ramps leading to loading docks on the second level and a third floor, served via forklift accessible freight elevators, for lighter-scale warehouse operations."
Reports indicate that Amazon has since leased out 500,000 SF, while Home Depot has taken the remaining 100,000 SF or so… meaning this facility is already fully occupied.
Prologis Georgetown Crossroads. Source: Prologis
San Francisco,  CA
According to BisNow, "Prologis, the San Francisco-based logistics REIT that finished the country's first ground-up multistory industrial building in Seattle in 2018, has plans for two three-story industrial buildings totaling 2.1M SF in what it calls a "first-of-its-kind facility" in the San Francisco's Bayview neighborhood."
"San Francisco Gateway, which will target a mix of last-mile delivery and wholesale storage and distribution uses, could come to S.F. for the same reason multistory industrial has reached New York City and Seattle. San Francisco rates high in population density, e-commerce use and industrial occupancy, all of which are key variables for multistory warehouse development."
San Francisco Gateway Complex. Source: Prologis and CBRE
Since then, the developer has begun marketing the "San Fransisco Gateway" industrial complex, which has a potential of 1.75M SF sitting on 13.32 acres, and located just 3.8 miles from downtown San Francisco. So far, according to Prologis and CBRE, 224,000 SF on 6.60 acres is currently available. 
Rendering of completed San Francisco Gateway Complex. Source: Prologis and CBRE
Los Angeles, CA – Speculative 2021/22 Development
According to BizJournals, "Greyhound Lines Inc. has sold its bus station in downtown Los Angeles [as of January 11, 2021]. Prologis Inc. has bought the 361,700-square-foot property with an eye toward redevelopment. Terms of the deal were not disclosed, but reports pegged the sale at around $90 million. The 8.29-acre site is located at 1526, 1614 and 1716 East 7th Street, across the street from a future Metro Station. Prologis plans to redevelop the property."
"This acquisition is part of our broader strategy of acquiring well-located assets in major gateway cities in close proximity to the urban core," said Prologis West Region President Kim Snyder.
"The property could serve a variety of uses including single and multi-story industrial, transportation logistics development, or renovation of the existing improvements to create a low-coverage last-touch facility."
Prologis' 8.29 acre redevelopment site in Los Angeles. Source: CBRE via CommercialObserver
Vancouver, BC
According to SkyRise Vancouver, "A former brownfield site on the banks of the Fraser River in Burnaby will soon be the home of Canada's first large bay multi-level industrial property."
"Oxford Properties Group recently unveiled plans to develop the 707,000-square-foot, two-storey project at Riverbend Business Park, a 1.35 million-square-foot masterplanned redevelopment of a former paperboard milling operation."
SkyRise Vancouver added, "the main floor of the building will contain 437,000 square feet of space with 32-foot heights. The second storey's 270,000 square feet and 28-foot-high ceilings will be accessible to full size transport trailers via a heated ramp."
"If necessary, a single customer could occupy the full contiguous space of the building, making it the largest available industrial property in Greater Vancouver. Alternatively, the two floors can be split to accommodate multiple tenants as small as 70,000 square feet."
Riverbend Business Park Distribution Facility, image via Oxford Properties Group. Source: SkyRise Vancouver.
Ottawa, ON
According to the Globe and Mail, "Amazon is building a five-storey building in Ottawa that, at 2.8 million square feet, is one of the largest industrial buildings ever constructed in Canada." 
Barrhaven warehouse, Source: OBJ
The Ottawa Business Journal adds, "a company called Python LP has filed a site plan application to construct the building – which would feature five levels and soar nearly 100 feet high – at 222 Citigate Dr. in the heart of Regional Group's 170-acre Citigate Business Park, just east of the intersection of Strandherd Drive and Highway 416 in Barrhaven."
"The "prestige office and light industrial building," which is expected to include about 50 truck loading docks and more than 2,000 parking spaces, would easily eclipse the one-million-square-foot Amazon warehouse to become the largest industrial building ever constructed in Ottawa."
Barrhaven warehouse, Source: OBJ
Toronto, ON – Old, Multi-Storey
I know we have repeatedly said that Toronto does not yet have a multi-storey industrial warehouse. However, we would like to feature a pair of older industrial buildings that do, in fact, have multiple storeys, as well as a truck ramp that wraps around both facilities, allowing 53-foot trailers to access the second floors.
According to a Junctioneer article on Medium.com, "Keele Centre the Intermodal freight transport building built by the CPR in the 70's to offset the gaining role of trucks offsetting train transportation. This great industrial building still provides light commercial space, having let go the heavy industry that once monopolized the building."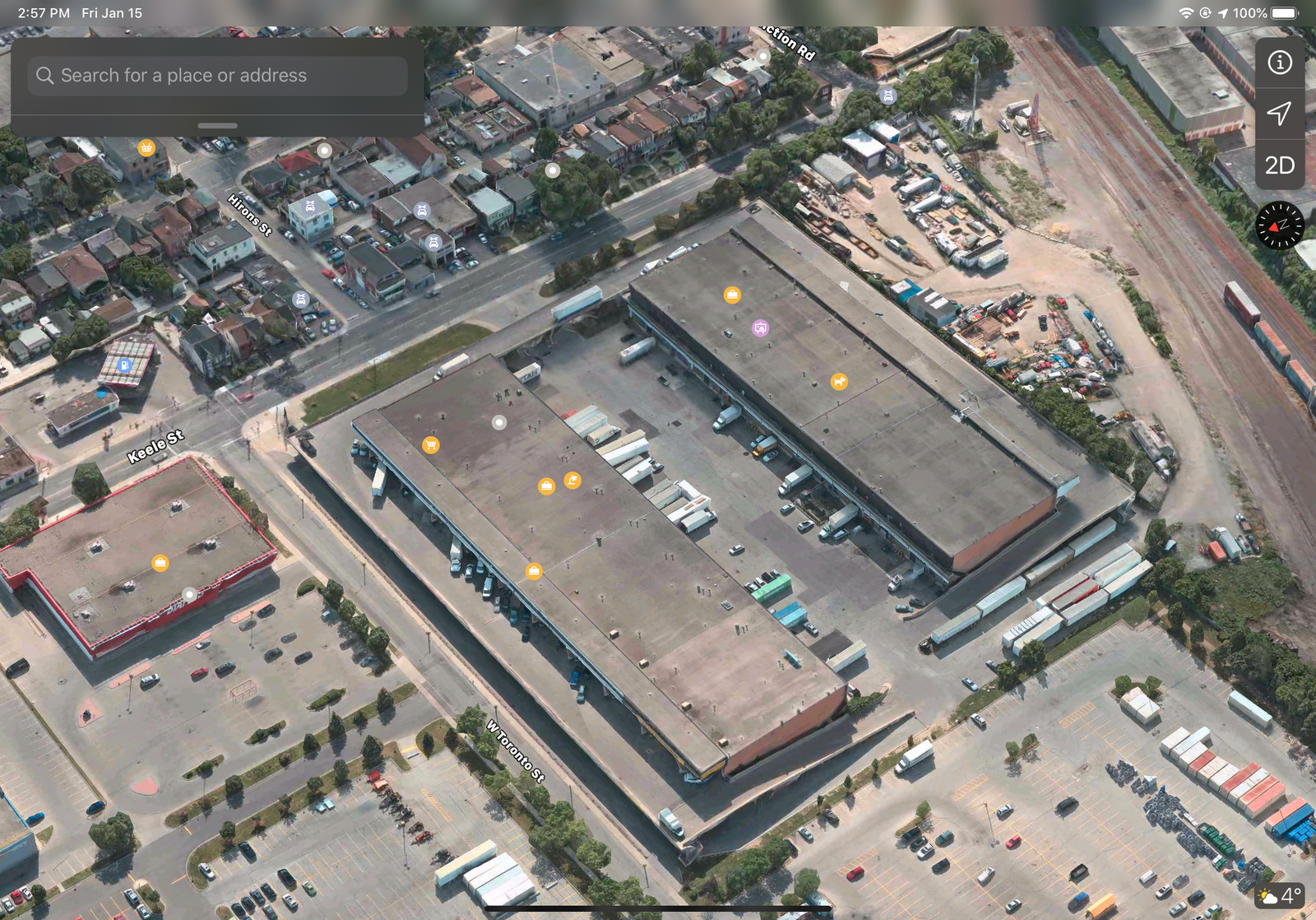 500 Keele Street, Toronto, ON. Source: Google.
For the purposes of our discussion surrounding modern, big-box, multi-storey facilities, let's just say that we aren't counting this particular case. But, it does exist… and it does meet the criteria per our original definition.
High-Probability Markets for Future Multi-Storey Industrial Development
Finally, to cap off this issue, we've compiled a list of markets that we feel would be high-probability considerations for future multi-storey industrial development.
Those markets are:
Greater Toronto Area (excluding our example)
Chicago Metro Area
Dallas-Fort Worth
Greater Houston Area
Atlanta Metro Area
Miami Metro Area
Greater Montreal Area
Washington D.C. Beltway
Conclusion
The concept of a multi-storey industrial warehouse is one of creativity, imagination, and ingenuity. Its existence and operation within our society will be one of necessity and financial incentive… either that or an initiative carried out by a progressive and risk-taking developer. So far, the Greater Toronto Area does not have a backer (for a modern multi-storey facility), but, given the forces at play, the Region would likely make a great candidate.
Extremely dense pockets of the urban core may be well served by these futuristic buildings and their ability to connect with consumers. The only roadblocks right now are economics and experience. With few understanding the former, and even fewer possessing the latter, it may take a bold move to get the ball rolling. However, once successfully completed, the pioneers should inspire the early majority. From there, it will not be unreasonable to see them spaced throughout the City of Toronto. 
This week, we conclude our current series on multi-storey industrial warehouses. When we revisit them in the future, we hope to report back with new, innovative case studies. In the coming weeks, we will examine activity and highlights of the past quarter, as well as 2020 in general.
In the meantime, if you would like a confidential consultation or a complimentary opinion of value of your property please give us a call.
Until next week…
Goran Brelih and his team have been servicing Investors and Occupiers of Industrial properties in Toronto Central and Toronto North markets for the past 25 years.
Goran Brelih is a Senior Vice President for Cushman & Wakefield ULC in the Greater Toronto Area.
Over the past 27 years, he has been involved in the lease or sale of approximately 25.7 million square feet of industrial space, valued in excess of $1.6 billion dollars while averaging between 40 and 50 transactions per year and achieving the highest level of sales, from the President's Round Table to Top Ten in GTA and the National Top Ten.
Goran is currently serving as Immediate Past President of the SIOR ‐ Society of Industrial and Office Realtors, Central Canadian Chapter.
Specialties:
Industrial Real Estate Sales and Leasing, Investment Sales, Design-Build and Land Development
About Cushman & Wakefield ULC.
Cushman & Wakefield is a leading global real estate services firm that delivers exceptional value by putting ideas into action for real estate occupiers and owners. Cushman & Wakefield is among the largest real estate services firms with 48,000 employees in approximately 400 offices and 70 countries.
In 2017, the firm had revenue of $6.9 billion across core services of property, facilities and project management, leasing, capital markets, advisory, and other services. To learn more, visit www.cushmanwakefield.com or follow @CushWake on Twitter.
For more information on GTA Industrial Real Estate Market or to discuss how they can assist you with your real estate needs please contact Goran at 416-756-5456, email at goran.brelih@cushwake.com, or visit www.goranbrelih.com.
Connect with Me Here! – Goran Brelih's Linkedin Profile: https://ca.linkedin.com/in/goranbrelih
Goran Brelih, SIOR
Senior Vice President, Broker
Cushman & Wakefield ULC, Brokerage.
www.cushmanwakefield.com
Immediate Past President, SIOR – Central Canada Chapter
www.siorccc.org
Office: 416-756-5456
Mobile: 416-458-4264
Mail: goran.brelih@cushwake.com
Website: www.goranbrelih.com