Pickering Industrial Market: An In-Depth Look
March 18th, 2022
"Victory comes from finding opportunities in problems."
Generalists and specialists will often disagree with one another when it comes to the assessment or diagnosis of an issue.
While the former can recite broad-strokes narratives regarding global patterns and indexed statistics about the way things 'generally are,' the latter will observe more localized patterns to uncover hidden facts or opportunities.
For example, while there may be an average rental rate, price per square foot, or land value per acre across the GTA, the dynamics within each municipality can vary dramatically. These numbers say little about the underlying policies, shifting demographics, or the key players within the market, as well as other intangibles.
Studying the overall market may arm you with a foundational knowledge, however, making real estate decisions lies in understanding the nuance and differences.
This more focused and tailored approach is the key to unlocking value, especially in a landscape where apparently nothing is available for sale, for lease, or for development. Yet, each week, we see major announcements made online as owners and occupiers capitalize on opportunities through creative solutions and 'seeing past the numbers'.
That's why we will begin a weekly analysis of various submarkets to give you a better sense of how each may fit in with your real estate strategy.
For this week's newsletter, we'll feature the City of Pickering and examine the state of its industrial market, including trends, transactions, and developments. 
Pickering Industrial Market Snapshot – Q4 2021
 
Source: Cushman & Wakefield Research.
Looking at the current inventory numbers, we have over 800M SF of industrial space across the GTA; yet Pickering's share is just 10M SF. In 2021, however, Pickering had a disproportionately higher amount of absorption and new supply (with the total being net negative).
The availability rate in Pickering sits at just 1% and should further tighten, however, it still remains above the rest of the GTA. Furthermore, rental rates are at a considerable discount to other submarkets, yet these too will catch up as supply further diminishes and businesses look to the GTA East for opportunity.
Pickering Industrial Properties Available for Lease – 20,000 SF+
Pickering Industrial Properties Available for Sale – 20,000 SF+
3 Interesting Facts about Pickering's Industrial Market
Amazon purchased an industrial building on 40.07 acres of land
Separate from Amazon's other Durham development site, Amazon Logistics is set to open a new 130,000 SF delivery station at 1400 Squires Beach Road in late 2022 or early 2023.
This facility will be a part of the e-commerce giant's plans to build out its last-mile distribution network and will "create over 200 jobs in sortation, operations, and management with approximately 85 per cent being full-time, permanent positions."
The company is also partnering with Pickering's Economic Development & Strategic Projects Department to promote its entrepreneurial Delivery Service Partners and Amazon Flex programs to further develop employment in the area.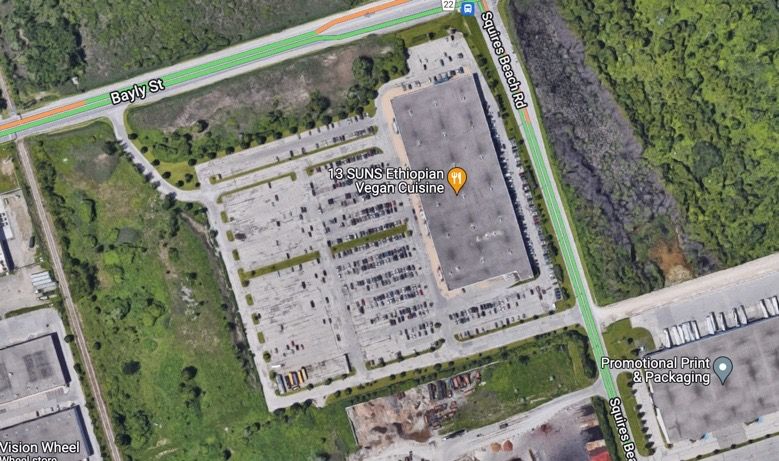 1400 Squires Beach Road, Pickering.
Kubota Canada finalized construction of their new facility at the Seaton Lands
Kubota Canada, a subsidiary of the Japanese agricultural machinery manufacturer, is completing the construction of a 500,000 SF facility and 65,000 SF head office in Pickering's Seaton Lands.
The new, state-of-the-art, warehousing and logistics facility represents the first phase of the company's plans to expand its campus to over 1M SF sitting on 50 acres.
According to the City of Pickering, it has "finalized agreements with Kubota Canada Limited and other anchor tenants in the Pickering Innovation Corridor, which will be the catalyst for future job growth and economic development along Highway 407 in Durham Region."
1155 Kubota Drive, Pickering.
Seaton Lands continues to drive major development in the GTA East region
The City of Pickering acquired prime, well-located land from the Province in an innovative approach to directly facilitate the development of employment lands and attract new business.
This initiative has become known as the Pickering Innovation Corridor, or Seaton Lands, which are comprised of 800 acres along Highway 407 between York-Durham Townline and Brock Roads.
As a result, we have seen a significant amount of investment and development from private and institutional developers, as well as businesses looking to relocate or expand.
Seaton Employment Lands Map 
Conclusion
If we keep at our current pace, it's conceivable that we may get to a 0% availability across the GTA, aside from brief periods between Tenants, design-build projects, or speculative construction (which are themselves often pre-leased well in advance). For those businesses looking to purchase or lease existing space, things will only become more challenging and competitive.
These points underscores the tremendous value of land. While land is becoming increasingly expensive, municipalities such as Pickering are hungry to attract investment from developers and businesses, and offers both incentives and a relative discount to other submarkets. Land also offers a level of predictability in cost and assurances in occupancy, should you get your hands on some.
It is for these reasons that we believe Pickering's industrial real estate market is poised for further growth in the coming years, provided the municipality brings more employment land onboard. Not only that, but its access to transportation routes and the labour pool further position it as an up-and-coming submarket (a title we feel it has already earned but that will be widely accepted).
In the coming weeks, we will continue our examination of various submarkets with the aim of uncovering potential opportunities and strategies for industrial Owners and Occupiers. In the meantime, if you are an owner of industrial land or property with redevelopment potential, there are plenty of institutional and private buyers who would be willing to pay a premium to take it off your hands.
For a confidential consultation or a complimentary opinion of value of your property please give us a call.
Until next week…
Goran Brelih and his team have been servicing Investors and Occupiers of Industrial properties in Toronto Central and Toronto North markets for the past 30 years.
Goran Brelih is a Senior Vice President for Cushman & Wakefield ULC in the Greater Toronto Area.
Over the past 30 years, he has been involved in the lease or sale of approximately 25.7 million square feet of industrial space, valued in excess of $1.6 billion dollars while averaging between 40 and 50 transactions per year and achieving the highest level of sales, from the President's Round Table to Top Ten in GTA and the National Top Ten.
Goran is a Past President of the SIOR ‐ Society of Industrial and Office Realtors, Central Canadian Chapter.
Specialties:
Industrial Real Estate Sales and Leasing, Investment Sales, Design-Build and Land Development
About Cushman & Wakefield ULC.
Cushman & Wakefield (NYSE: CWK) is a leading global real estate services firm that delivers exceptional value for real estate occupiers and owners. Cushman & Wakefield is among the largest real estate services firms with approximately 53,000 employees in 400 offices and 60 countries.
In 2020, the firm had revenue of $7.8 billion across core services of property, facilities and project management, leasing, capital markets, valuation and other services. To learn more, visit www.cushmanwakefield.com.
For more information on GTA Industrial Real Estate Market or to discuss how they can assist you with your real estate needs please contact Goran at 416-756-5456, email at goran.brelih@cushwake.com, or visit www.goranbrelih.com.
Connect with Me Here! – Goran Brelih's Linkedin Profile: https://ca.linkedin.com/in/goranbrelih
Goran Brelih, SIOR
Senior Vice President, Broker
Cushman & Wakefield ULC, Brokerage.
www.cushmanwakefield.com
Office: 416-756-5456
Mobile: 416-458-4264
Mail: goran.brelih@cushwake.com
Website: www.goranbrelih.com