The Impact of Material Cost Increases on Industrial Roofing
How to Preserve the Value of Your Commercial Real Estate Investment
May 14th, 2021
Who could have predicted what is happening in the world around us? How could we have known that the supply chain issues and labour shortages would only get worse and worse?
You may hear those questions being asked frequently lately. People and businesses are beginning to – if they have not already – become frustrated. They are feeling the pinch that comes with rising raw material costs, delayed transportation times, expensive shipping rates, an inability to find willing and qualified labour, and now a creeping inflation permeating into everything else, including food, gas, and wages.
Economists are saying this phenomenon will be 'transitory,' but what do you call it when it lasts for many months? The latest payroll and jobs report fell short of expectations, while this week's Consumer Price Index indicated a quickening inflation that likely stems from a supply-side shock that is – at the same time – being exacerbated by demand-pull forces due to limitless stimulus and historically-low interest rates.
Given how tangled and ambiguous everything has become, the economic landscape naturally puts business owners into a 'wait and see mode,' which is understandable.
That being said, commercial real estate assets can often be a great insulator… if you manage them properly and proactively. Finding a great Tenant (if you are a Landlord) or securing your own space through a lease or acquisition (if you are an Occupier) is only part of the task. Maintaining and improving your facilities is the other… and it can be a phenomenal investment (just look at all the net rental rate increases year-over-year and quarter-over-quarter in the GTA).
And with pricing becoming unpredictable or difficult to forecast… if you have been considering assessing, repairing, upgrading, or replacing any part of your building's structural or mechanical elements, then you may want to consider starting the process sooner than later.
Contractors are getting booked up far in advance, and materials are expensive when they aren't in short supply. So with that said, one of the most important aspects of an industrial property is the roof. It is the membrane which protects your operations and maintains the integrity of the building itself. And it isn't cheap to fix.
So with this in mind, we asked Roofing expert Howard Glowinsky of Elite Roofing to provide us with his thoughts on rising material costs and how they are affecting roof repairs and maintenance; a very timely topic given the current events…
Here is what Howard had to say… 
Source: Elite Roofing, www.eliteroofing.com. 
It's an understatement to say that the last year has thrown things a little out of whack. The cost of raw building materials, unfortunately, has not been spared, and prices are set to increase substantially over the next twelve months. If you are a building owner looking to begin a project, or you have already started a project, you're probably wondering what this means for your business and your bottom line. So how do you know what to expect with price increases on the horizon?
Here's what happens during periods of rising prices from the perspective of your contractor:  
What Causes Price Increases: 
There are both supply and demand-side issues that affect price increases. When demand exceeds supply, prices tend to rise. The Wall Street Journal calls the events of the last year a "mess", stating that the global supply chain has been disrupted in a way that is causing increases across all industries with several main factors.
Natural disasters:
The past few months [Feb 2021] brought severe hailstorms to Calgary and in the aftermath of this and other natural disasters, roofing materials become scarce as there is an outsized demand from the affected areas.
Geopolitical risks:
A large segment of the materials that we use for our roofing projects are made from petroleum derivatives. The rising cost of oil therefore impacts the costs of most roofing materials. Oil prices are subject to unexpected wide swings in prices because OPEC ["The Organization of Petroleum Exporting Countries"] is an oligopoly where the members collude overtly to fix the price of a barrel of oil.  According to OPEC, their members control 81% of crude oil reserves.
Plant closures:
Discontinued product lines from one manufacturer will allow the remaining suppliers to raise prices over time due to less competition.
Construction boom:
The increase in construction during the pandemic contributed to an excess demand situation which affects material prices. The NRCA recently put out a notice regarding raw material shortages due to increased demand in the construction industry, stressing the importance of planning projects accordingly.
Travel costs:
The cost of trucking has risen in the last year, which impacts our freight and crane lift prices. It is also difficult to find.
Source: Elite Roofing, www.eliteroofing.com. 
What Happens During Periods of Rising Prices: 
In advance of periods of rising prices, our suppliers will often attempt to bring into inventory a limited quantity of materials in advance of escalating prices to help contractors "bridge the gap" and keep our short term costs lower for our customers. Unfortunately, some materials can't be brought into inventory because of the limited amount of available storage space and the multiplicity of product codes.
Our goal in doing these things is to keep the cost of materials as low as possible for our clients so that their roofing projects are completed within their expected budgets. When pricing increases for raw materials occur, we work with our clients and our suppliers to ensure a mutually beneficial outcome.

How We Determine The Cost of Materials: 
For Projects that have already Been Awarded: 
When we start a project, we look first at the date that the roofing work will be done. Once we establish a project timeline and a plan for the materials we require, we do our best to lock in prices with our distributors as soon as possible. This ensures that the cost we have quoted the customer remains as such, with no surprise increases.
However, if the project is part of a larger scale renovation with multiple parts, the cost of materials may have to be reassessed depending on the anticipated schedule for delivery. We have been a part of large construction projects with multiple phases that include many different kinds of contractors, sometimes taking years to complete. In these cases, we do our best to lock in pricing for timelines that are within our control.
For Bid Tenders (New Projects): 
In most cases when we submit a bid on a project, we first look at the date that the roofing is expected to commence. We do our best to anticipate any price changes and work with projections given by our distributors.
We also register the bid with our material suppliers and negotiate whatever limited price protection is available to us so that if the bid is accepted, there is no increase in material prices.
Some Examples of Items That Have Been Affected By 2021 Pricing Increases 
Rolled roofing membrane

Insulation

Asphalt 

Sheet metal

Lumber
To see a full breakdown of the price increases per material, click here.
Pricing increases are an unfortunate reality of the changing world we are all currently navigating through. At Elite, this has renewed our commitment to the highest standards, and the most effective processes in order to keep costs down.
We appreciate the work that our suppliers and manufacturers are doing, and strive to work together to keep costs low while providing a high standard of quality and service. At Elite, we operate with full transparency for our clients, and are here 24/7 to answer your questions. That's the Elite Advantage.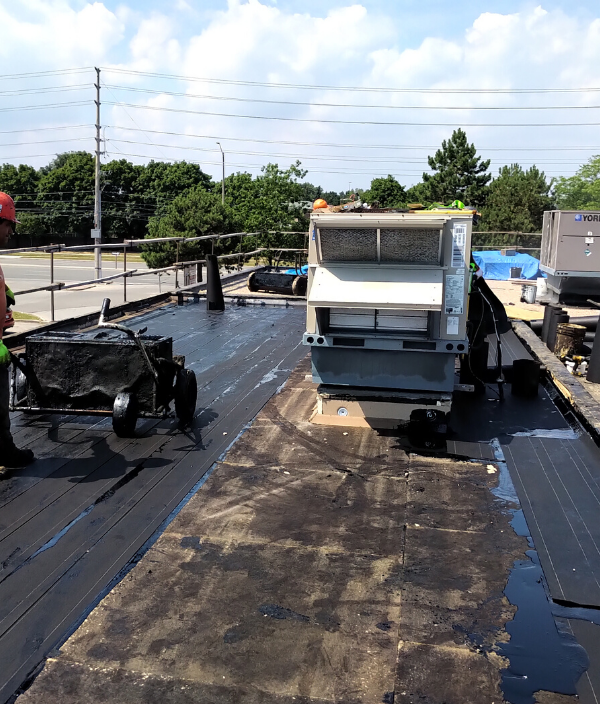 Source: Elite Roofing, www.eliteroofing.com. 
Overall, if you are an Investor, Landlord, Owner-Occupier, or Developer of commercial property in the GTA, then you must engage with a roofing professional to assess, inspect, maintain, repair, or replace your commercial or industrial roof. 
***Disclaimer: The information provided in this newsletter is for educational purposes only. Howard is a certified expert, however, to receive the appropriate guidance for your unique situation, please consult the proper authorities before taking action. We are not liable for any damages – perceived or otherwise – as a result of your own personal decisions.***
On that note…
For further information on the subject of Commercial and Industrial Roofing in the GTA please contact:
Howard Glowinsky
howard@eliteroofing.com
https://www.linkedin.com/in/howard-glowinsky-1ab07314/
Elite Roofing Contractors Limited
https://www.linkedin.com/company/elite-roofing-and-contractors-limited/
www.eliteroofing.com
Elite Roofing has a rich Canadian heritage that stretches over six decades. Being a third-generation and family-run company, Elite Roofing prides itself on quality workmanship and exceptional customer service. In addition to their professional code of ethics, they meet all industry standards and safety regulations. Elite Roofing is a multiple-award-winning recipient of the Industrial Roofing Safety Performance Award.
To read the original article on Elite Roofing's blog, go here.
Conclusion
The bottom line is: if you want to manage the cost of repairing or replacing your roof… or any part of your building, for that matter… then you must bid out your project as soon as possible. At the end of the day, all contractors are limited by the prices they have to pay to acquire the raw materials in the first place, as well as the wages they must pay their workers or sub-contractors.
In conclusion, most of what I have personally learned about industrial roofing I learned from Ike and Howard Glowinsky of Elite Roofing Contractors. They have been providing services to many of my clients over the years; and how I met them in the first place.
Howard was also gracious enough to provide insight and information for this newsletter. He is a true expert and would be able to further clarify and/or provide you guidance if you are considering maintaining, repairing, or replacing an industrial roof… So if you are looking for more detail on this or anything else related to roofing, then please connect with Howard directly (his contact info is above).
Finally, for a confidential consultation or a complimentary opinion of value of your property please give us a call.
Until next week…
Goran Brelih and his team have been servicing Investors and Occupiers of Industrial properties in Toronto Central and Toronto North markets for the past 25 years.
Goran Brelih is a Senior Vice President for Cushman & Wakefield ULC in the Greater Toronto Area.
Over the past 27 years, he has been involved in the lease or sale of approximately 25.7 million square feet of industrial space, valued in excess of $1.6 billion dollars while averaging between 40 and 50 transactions per year and achieving the highest level of sales, from the President's Round Table to Top Ten in GTA and the National Top Ten.
Goran is currently serving as Immediate Past President of the SIOR ‐ Society of Industrial and Office Realtors, Central Canadian Chapter.
Specialties:
Industrial Real Estate Sales and Leasing, Investment Sales, Design-Build and Land Development
About Cushman & Wakefield ULC.
Cushman & Wakefield is a leading global real estate services firm that delivers exceptional value by putting ideas into action for real estate occupiers and owners. Cushman & Wakefield is among the largest real estate services firms with 48,000 employees in approximately 400 offices and 70 countries.
In 2017, the firm had revenue of $6.9 billion across core services of property, facilities and project management, leasing, capital markets, advisory, and other services. To learn more, visit www.cushmanwakefield.com or follow @CushWake on Twitter.
For more information on GTA Industrial Real Estate Market or to discuss how they can assist you with your real estate needs please contact Goran at 416-756-5456, email at goran.brelih@cushwake.com, or visit www.goranbrelih.com.
Connect with Me Here! – Goran Brelih's Linkedin Profile: https://ca.linkedin.com/in/goranbrelih
Goran Brelih, SIOR
Senior Vice President, Broker
Cushman & Wakefield ULC, Brokerage.
www.cushmanwakefield.com
Immediate Past President, SIOR – Central Canada Chapter
www.siorccc.org
Office: 416-756-5456
Mobile: 416-458-4264
Mail: goran.brelih@cushwake.com
Website: www.goranbrelih.com